Property Crashes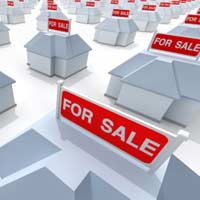 When it comes to the tricky topic of property crashes it is best not to always believe what you read in the newspapers. In some cases newspapers can see an increase in sales each time they publish a story about the latest property crash. This kind of news sells, so it is not uncommon to see newspapers with eye-catching headlines such as; house prices to crash by 20%. Do not let this put you off when it comes to buying a property, there will always be predictions and people in the market predicting the worst.
It is true that what goes up, must come down, so it is not uncommon for property prices to fall from time to time, you may have to wait again but they will almost certainly go up again. All new homeowners worry that their property will go down in value after they have bought it, which unfortunately could happen. However, it is worth keeping in mind that if your house is going down in value then so is everyone else's around you, so when you come to move you may not get the asking price on your property, but this also means that the house you are buying will come down in value as well, so ultimately you will not loose out when upgrading.On the other hand, if you have bought your property as an investment than a property crash is not great news and in this scenario you will almost likely loose out.
Good News for First-Time Buyers
It may sound gloomy, but property crashes are great news for first-time buyers, who will be able to snap up a bargain. If you do not have a house to sell already and are new to the market then you are in a brilliant position as you may be able to put an offer in that is lower than the asking price, or find a property that is larger than you first expected, which goes to show property crashes are not always bad news, however they can be hard to predict.
There is no telling when a property crash might hit, but there's normally a few warning signs. When the market is doing well, this is probably because it is too good to be true, which means something will have to change.It is not surprising that a property crash normally occurs when house prices are up and rates are low, which is why you will often hear people say that they are waiting until there is a cooling off in the property market, which means they may be able to get their property for a lower price.
If you are on the right side when a property crash happens then it's good news, if you are a first-time buyer which hasn't yet bought their property then you should see a property crash as a positive thing. If however you are unlucky enough to buy just before a property crash then this won't be such good news.It is worth waiting a while if there are rumblings of a property crash, but ultimately the market will always correct itself and revert back to the way it was, even if this takes some time.
You might also like...