I Remortgaged Despite House Prices Falling: A Case Study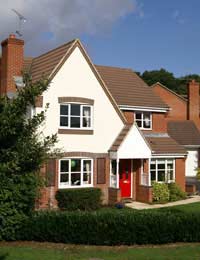 In many ways the housing market has come to a standstill, people are finding it increasingly difficult to sell their homes, while others are finding it difficult to get a mortgage to buy them.
But just because things have started to slow down, it doesn't mean you are trapped in your property or unable to remortgage.
Finding Yourself in Negative Equity
Steven and Julie bought their first house in 2003. It was a three bedroom terraced house in the North of England. They had been living in the house for five years and wanted to move somewhere bigger as they were expecting their first child.
"My husband had lost his job a few months ago and had only recently found work, so we didn't want to move to anywhere bigger as this would stretch our finances," says Julie.They bought their house for £175,000 but when they got it valued it was now only worth £169,000.
"When we were lliving in the house we didn't even think about whether it could go down in value, it just didn't cross our minds," says Julie.
"We knew we wanted to live somewhere bigger, but without wanting to put any more money into our mortgage we were going to have to change our location slightly," she says.
Making Sacrifices
The area in which Julie and Steven had been living was a lovely area, but they knew if they wanted to move to a bigger property they were going to have to sacrifice their ideal location for one that was a bit more affordable.
"We were willing to sacrifice the location for more room, as long as we remained close to our work and friends we had no objection to moving," says Steven.
They went to visit a mortgage broker to discuss what deals were available. They coincided moving with the date that their current fixed rate expired. They had originally borrowed 90% of the property's value as it was their first home, but because the property had gone down slightly in value it had pushed the mover the 90% LTV mark.
Finding the Right Deal
"We were able to find a property that was bigger than our current one and in a location that we were happy with. We offered £173,000 for the property even though the asking price was £180,000. This worked to our advantage though and our offer was accepted," says Steven.
The mortgage broker helped them find another fixed rate deal they could remortgage onto, but it was paying at least a couple of hundred pounds more than they had been paying on their old rate. It worked out that what they had already paid off on their mortgage combined with the slightly lower price of the new house, meant they did not exceed the 90% LTV mark by much.
"We admit it wasn't the best time to remortgage and move house, but we really wanted to and we didn't just want to sit around and wait for our property to regain some of its value. There is no telling what might happen next and we might even make some money on the new house we have moved into," says Julie.
Julie and Steven had the right attitude towards remortgaging, they looked at the bigger picture and saw that even though they might be making a sacrifice in the short term it was worth it for the long-term investment.
Ideally when it comes to remortgaging you should try and find a better and more competitive deal than the one you are on now, but this does not always work out. But as long as you can budget in for the extra costs then in the long term your costs will eventually go back down.
ABOUT MORTGAGING IS FOR SALE.
This website is for sale [more info].
You might also like...