Why Mortgage Lenders Are Going Bust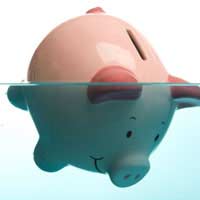 It is a sad truth that a lot of mortgage firms and lenders are going bust at the moment. At its peak the mortgage market had over twenty lenders willing to hand out mortgages, in today's climate that figure is nearing around ten. If you visited a mortgage broker to get your mortgage or needed a sub-prime mortgage the chances are you would have come across some specialist lenders.
Before the credit crunch a lot of mortgage lenders acted as subsidiaries to larger banks. For example you may have got your mortgage from one lender but that lender was a subsidiary of one of the larger banks.
A lot of these subsidiaries have now been closed down. If you got your mortgage from a sub-prime mortgage lender because you had bad credit they will have almost definitely gone bust by now.
There is no telling who will be next, you may think that by taking out your mortgage with your local building society that you will be safe but a number of building societies have also suffered as a result of the market upheaval and they have been forced to merge with other societies.
Even a lot of the well known banks no longer exist in their old format, they have been forced to merge with other larger banks.A mortgage lender goes bust when they run out of money, or they can see a time when they are going to.A lot of the UK banks are funded by large American investors, these investors have started to pull their lending facilities from the UK because they do not want to get stuck with a lot of bad debt.
Banks can also make their money through securitisation, which is where they are able to sell on their mortgage books to another lender or financial institution but these markets have all but dried up, so lenders are being forced to look elsewhere.Problems occur when banks and lenders lend out more than they can afford and are unable to keep up with their own borrowing. Customer's savings also play a part, if nobody is saving then the banks will not have much money coming in.
If Your Lenders Gone Bust
In an ideal world if your mortgage lender went bust your mortgage would be wiped, but unfortunately this is not the case.If you took out a mortgage with a lender two years ago and that lender has now gone bust, you will need to start paying your mortgage to whichever lender took over its mortgage books. This process should happen automatically and you should not have to do anything. You may find that your mortgage is still under the lender that has gone bust for some time, because its parent company may be winding down the business.
If you were on a two-year fixed rate mortgage with the lender after this two years has expired you will need to remortgage onto another lender, which may not offer the same rates as your previous lender did.People are often a lot more relaxed about their mortgage lender going bust than they are about the bank where they have their savings.
A mortgage is a debt that you owe, so you will have to pay it back whatever. If your mortgage lender goes bust there is no risk of your house being taken away from you or being repossessed. Whoever takes over your ex-lenders mortgage books will want to make sure that they get the mortgage paid back.
It sounds unbelievable but if your mortgage lender goes bust during the credit crunch the chances are you will not notice and changes to your mortgage payments or how you pay your mortgage. You will not be able to remortgage with the same lender after your rate has expired but this should not impact you being able to remortgage onto another lender.
You might also like...