Will My Property Go Down in Value?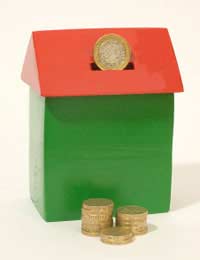 Nobody can ever be 100% sure their house will not go down in value. The housing market is a rollercoaster at times, going up slowly and then falling rapidly.
Whatever property you buy you are always taking a gamble and there will always be a risk it will decrease in value.There are however a number of signs that could indicate that your property may go down in value.
These few questions should give you an indication of whether your house is at risk if dropping in value.
1, What Kind of property Have You Bought?
A) It is a new build flat in the centre of a city
B) It's a one-bedroom flat in a desirable area
C) The house is a family home in a good location/ two –bedroom flat in a good location
2, How Much Did You Pay For the Property?
A) My mortgage is for 125% of the property's value
B) The mortgage is for 90% plus of the property's value
C) We borrowed below 70% LTV on the property
3, When Did You Buy Your Property?
A) I bought in the mid 2000s
B) I bought in the last ten years
C) I bought more than ten years ago
4, What Kind Of Area Did You Buy In?
A) A city centre
B) A rural location in the North of England
C) A rural area close to a city/commuter town
5, Has There Been Any Changes to the Property?
A) No, not since I bought it
B) We have made some minor improvements and decorated
C) We have built an extension/extensive renovation work
Your Answers
If You Answered Mostly A – Time To Call in the Valuer
It sounds like you bought at the peak of the housing market, which means you probably paid a premium for the property you live in. There was a period in the mid 2000s when house prices leaped considerably and for some properties this will certainly not be the case today.
If you bought a new build flat this is one area where prices have gone considerably down in price because there were so many of them built it outstripped demand, which in turn pushed down their value.
This is not the case with all new build flats and you will probably be able to tell from the area in which the flats are situated whether or not there is still demand.
Another warning sign is if you borrowed more than the property is worth. This in itself does not make your house worth less but it does mean that you will find it very hard to recoup any of your losses.
If You Answered Mostly B- Even Split
It doesn't sound like your property is at any great risk of dropping in price, but a risk is still there.House prices can change dramatically even within the space of a few miles, so what might look good on paper might not always be so in reality.
In recent years the housing market has suffered one of the biggest crashes of our time, so don't be down hearted if you find your home has dropped in value.
This also means there is only one way your house price can go from here - and that is up. If you have decorated the property this will work in your favour, as will it being in a desirable area. The South of England has weathered the housing storm slightly better than the North of England. England.
If You Answered Mostly C- No Need to Worry
There are some properties in certain locations that will never go down in value, and it sounds like you might have one. If you have done any kind of renovation work to your property such as adding an extra bedroom or conservatory this will immediately push up its price.
Family homes in good catchment areas will also always be in demand and if they are close to a popular commuter destination such as Manchester or London, they will always be sought after.
If you bought your property when the housing market was experiencing a slump the price you paid for it is likely to have risen in the past few years and almost definitely over the last ten.
A fall in your property's value can set alarm bells ringing, but in reality falling into negative equity is only a problem for people that want to move.
Unless you have paid ridiculously over the odds for your property the housing market will in time even out itself out and your property will gain in value. It might just mean you have to sit tight for a while and wait for the market to improve.
You might also like...