Buying in the Credit Crunch: A Case Study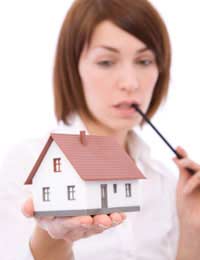 The mortgage market is suffering from a drought at the moment, brought on by the credit crunch. Attractive mortgage deals for people with small deposits have almost dried up, while deals for people with no deposit have vanished all together and may never return.
Starting Out
Andrew was in his mid twenties and was thinking about buying his first property. He had been left some inheritance by a family member and was going to put it towards a deposit for a house. He didn't have much of a deposit it was only £7,000, but he thought he would see what kind of deal he could get. He worked as an electrician and was self-employed.
Lack Of Deals
"As soon as I mentioned the words self-employed to my bank immediately told me the number of deals available to me would not be as high as for others," says Andrew.
A few years ago it would not have been a problem for Andrew to get a self-cert mortgage, which is a special mortgage for people who are self-employed, but because they banks viewed this type of borrower as more risky it was becoming increasingly difficult for people who are self-employed to get a good deal.
"The bank told me that it actually did not offer self-cert mortgages and it might be an idea to visit a mortgage broker," explains Andrew.
The mortgage broker was able to sit down with Andrew and discuss his options.
"The number of deals available to me were limited and the broker had to do a bit of searching. He warned me that my 10% deposit may not be enough and because I was self-employed I might have to save up another £5,000.
"I didn't like the idea of waiting another year to get on the housing ladder, so I asked my parents if they would be able to help me out," explains Andrew
Raising The Deposit
Andrew's parents weren't able to lend him the extra money he needed but they did offer to act as guarantors on the mortgage which meant if anything went wrong then they would agree to pay it.
"Lenders were a lot more willing to lend me the money with my parents as guarantors, and I was able to get a 90% LTV two-year fixed rate deal," explains Andrew.
Andrew says: "Once I had my mortgage in principle I was able to start house hunting. The one good thing about the credit crunch was that flats and houses were a lot cheaper than they would have been a couple of years ago.
"I found a flat I wanted for £75,000 but it had been on the market for quite a while and I was able to haggle them down to £71,000. They liked the fact I was a first-time buyer as it meant I had no chain and I was able to move in as soon as they sold me the property."
Finding a mortgage in the credit crunch can be challenging, but the credit crunch has its advantages as well. If you are a first-time buyer with a job and can manage to save up a 10% deposit then there will be plenty of deals available to you. If on the other hand you are self-employed and have a bad credit rating or a lot of debt you will find it hard to get a mortgage.
Lenders do not want to stop lending altogether they just want to stop lending to people that they think pose a risk. If you can show the lender that you have a good history of paying off your debt and will be able to make your payments in the future you should not have a problem.
ABOUT MORTGAGING IS FOR SALE.
This website is for sale [more info].
You might also like...