Find a Lender and Get a Good Deal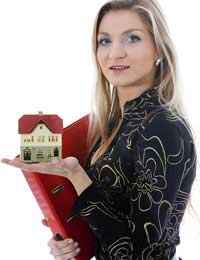 It is becoming more common for borrowers to go to a mortgage broker to get the best deal on their mortgage. A lot of banks and building societies will advertise that they have their own in house mortgage broker, and while these can help you they will only be offering you what that one lender has to offer in terms of mortgages.
A mortgage broker is able to offer you the whole of the market and look at all the different products in the market, and choose the best one for you.It is worthwhile visiting a mortgage broker if you have a bad credit rating or your circumstances are a bit more unusual, as a mortgage broker will have access to specialist lenders in the market that can help you.A lot of people think that mortgage brokers are only for the wealthy or people that are buying large properties, which isn't the case.
A broker is the most useful to a first-time buyer who is trying to get their first mortgage. You may have been turned down by your bank and think that you can't get a mortgage, but this is where a mortgage broker can in.
A mortgage broker will normally have a sourcing system that they can look at and see all the deals that match your circumstances. They may also be able to get special exclusive deals with special lenders that only go through mortgage brokers and will not deal direct with the public.
Drawbacks of going to a Mortgage Broker
There aren't really any drawbacks to visiting a mortgage broker, unless the one you go charges for advice. There are a number out there that will offer you advice free of charge, and they will then get a fee of the lender, which is how they make their money. You need to make sure that you don't go to a mortgage broker that will charge you for advice, as this may add to the cost of your mortgage.
A lot of banks and high street lenders will say that you can get a better deal by going direct to them and missing out the middle man, however if you go to a broker that does not charge for advice then you have nothing to loose.Don't be put off by a lender that your mortgage broker may recommend but you might not have heard off.
A lot of the larger banks will have specialist subsidiaries that deal with specialist areas in the mortgage market, for example a buildings society could have a specialist sub-prime division, but you may not have heard of them. Mortgage brokers will only normally recommend a lender that they trust.If you are going to visit a mortgage broker you need to make sure that they are regulated by the Financial Services Authority, which means they are authorised to give you mortgage advice, and will have certain standards that they need to abide by.
There is nothing wrong going into your local bank to get a mortgage, but when trying to find the best lender for your circumstances you need to look at the whole of the market and find someone that is able to advise you and compare different lender's products, which is why it would be a good move to make a mortgage broker your first choice.
You might also like...