Fixed Rate Mortgage vs Base Rate Tracker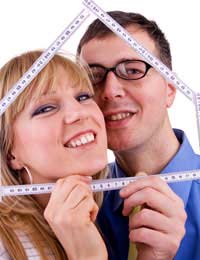 To fix or not to fix is often the question when it comes to choosing whether to take out a fixed rate mortgage. A mortgage that is fixed does what it says on the label and fixes your monthly payments to your mortgage lender at a rate you have agreed.
This means that even if the Bank of England's base rate shoots up, you will be safe in the knowledge that your mortgage repayment will not.The mortgage rate will only be fixed for as long as you agree with the lender, so it is important that when the fixed rate period comes to an end that you look at your circumstances again and seek alternative lenders and rates in order to get the best rate.
If you do not contact the lender, then they will cash in and revert you to its standard variable mortgage rate, which in the majority of cases is a higher rate.
A lender will normally allow you to fix your monthly rate for two, three, five years, and in some cases up to 25 years to 50 years.
Two-year fixed rates normally offer the best rates and are the most popular, however if you do not want to worry about your mortgage for a few years then a longer term fixed rate may prove worthwhile.
It is important that you are sure about the fixed rate period you choose because if you decide after one year that you want to change deals or lenders then you may face a hefty early redemption penalty. An early redemption penalty is what the lender will charge you to get out of the deal early.
What is a Base Rate Tracker Mortgage?
For those of you that can afford to take a little more risk with your mortgage repayments, a base rate tracker mortgage may pay off further down the line.
A base rate tracker mirrors the Bank of England's base rate, which means if that goes up so does your mortgage payments, however on the other side of the coin, if it goes down you get the benefit of a lower rate.
The rate you agree to pay will normally be just above the bank's base rate, and like a fixed rate you will be tied into that rate for a set amount of time, however the rate may change. A word of warning though, the Bank of England's base rate is sometimes unpredictable and so there is an element of risk involved in agreeing to a tracker rate, what can initially seem like a tempting low rate could evolve into a higher rate as the base rate increases.
Which is Best?
In an ideal world you would be able to gaze into a crystal ball an see just what the Bank of England plans to do with its base rate, in reality it is almost impossible to say.A fixed rate mortgage offers a borrower stability, a chance to budget accordingly and piece of mind knowing that your rate isn't going to increase in the timescale that you have agreed to.Fixed rates are normally most popular when interest rates are low, as this is when the best deals can be found.
On the other side of the coin, tracker deals are normally recommended when the base rate is high, as the probability is that it will start to go down once it has reached a peak.There is always going to be a risk involved in whichever mortgage you choose, the best thing to do is to choose an option that you have budgeted for and are confident that should the payments go up you can still afford to pay the mortgage.
You might also like...
With the Bank's base rate so low and showing no sign of increasing anytime soon, a tracker mortgage looks like the way to go, although it could increase, as rates might change on a monthly basis. This is where a good mortgage adviser can help. He can look at your situation and help you decided which type of mortgage is the best for your own situation, as this can vary, depending on job and income.
Wendy
- 4-Jul-12 @ 12:36 PM