How Regulation Affects Mortgage Advice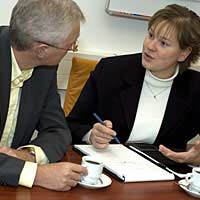 If you are getting a mortgage today, you are in a better position now then you were four years ago, as all the advice you are now given is regulated by the Financial Services Authority.This is a regulatory government body that overseas the operations and advice given by mortgage brokers and lenders in the UK.If you need to know more about the FSA then you should visit its website at www.fsa.gov.uk/. It is an impartial regulator and is not funded by any lender or broker, so they have a completely impartial viewpoint.
It's aim is to make sure consumers get the best advice possible when it comes to mortgages and to make sure that firms are not miss-selling mortgages or giving you bad advice.Regulation is still relatively new to the mortgage market and was only introduced in 2004, but it still means that you are in a good position in terms of how you are being advised.You should always make sure that the lender or broker you are visiting is regulated by the FSA, they should make this clear on their literature and any information they give you, they should also display a sticker in their window.If you find out that the person offering you advice isn't regulated you should report them and definitely do not use them for advice.However, even those firms that are regulated can sometimes get it wrong, but on the whole regulation of the industry has improved things.
How Regulation Benefits your Advice
Mortgage regulation means that you should now receive information about your mortgage in a clear way, which normally means you will be given a Key Facts Illustration, which will display everything about your mortgage. This should make it easier for you to compare different mortgages from different lenders. The firm must also clearly display any information clearly about the Annual Percentage Rate, which is the interest charged on your mortgage.The broker or lender needs to make sure that they recommend a product that is right for you, based on your circumstances and needs, along with this they must also make sure that you can afford the mortgage.Firms are also responsible for making sure that you understand the type of mortgage you are taking out and how much this will cost you, this is described as Treating Customers Fairly and is an initiative that brokers and lenders need to follow.One of the most important aspects of mortgage regulation is that firms are not allowed to charge you excessive fees for advice, which hopefully means there shouldn't be a huge difference between what each firm will charge you for advice.
There has been much debate as to whether mortgage regulation has been a good thing for the mortgage industry as it means extra information for the consumer and more that you need to absorb. Ultimately regulation has been put in place to protect the consumer and you should benefit from it being there, so make sure that you get the most out of your advice and make sure that you are being treated fairly.
You might also like...