Prime Mortgage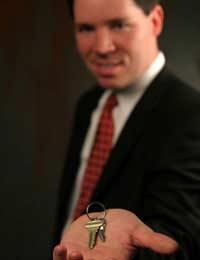 If you are lucky enough to have a good credit record and don't have any county court judgements against your name then you will be classed as a prime borrower.
Prime borrowers are in the best possible position to take out a mortgage, and are the ones most likely to get the best rates from lenders. Lenders do not see prime borrowers as a huge risk because they have a good credit rating and have a proven track record of being able to pay back a loan without missing payments, so the lender knows they are going to get their money back.
Prime borrowers are the most common borrowers in the mortgage market, a prime borrower is able to get a prime mortgage, you are either prime or not prime, it chooses you, not the other way round.You will most likely be a prime borrower unless you are told otherwise or have had any serious credit problems in the past.
It is important however to be honest with a lender and let them know if you do have any skeletons in the closet when it comes to your finances, because if you have the chances are they can still find you a mortgage, it will just be at a higher rate.It is also important to be upfront about your finances, as any white lies at the beginning of the process will only get found out in the end, but will just make the application process lengthier.
Where a Prime Borrower should go
Most lenders will offer prime mortgages and it is important that you double check that this is what you are being offered as there are a few instances of lenders putting borrowers on a different deal when they should qualify for a prime deal, because they don't want to miss out.A good lender should direct you to the right deal though.A prime borrower is able to lend on almost any type of mortgage there is, and most first-time buyers fall into the prime category.People who have already got a mortgage have had more time to default on payments so may not be prime anymore.
Even if you have no deposit to pay for your mortgage you are still classed as a prime borrower.Also don't worry if you have a few missed credit card payments or have even defaulted on a loan payment, as this does not automatically mean you are not eligible for a prime mortgage.A lot of lenders have become more forgiving over the years as to what they class as a prime borrower and they understand that in today's society not everyone always has a squeaky clean credit record.
Another advantage of being a prime borrower is that the lender will probably be more willing to lend you a larger sum of money because their investment will be in safe hands.
Everyone who is taking out a mortgage should aim to be a prime borrower, not only do you get better rates, but you also have a better chance of being able to borrow the amount of money you need, so the better you are with your finances, the more you will be rewarded.
ABOUT MORTGAGING IS FOR SALE.
This website is for sale [more info].
You might also like...