Property Value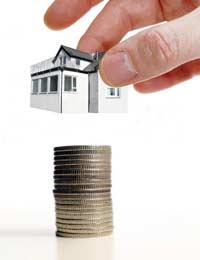 Whether you are selling your existing home or buying a new one, you will first need to know the property's value. If you already own a property the most common way of finding this out is to get the house valued, which you should do as close to the time you want to sell as you can, as prices can stagger quite a lot, even in a matter of months.If you are buying a property for the first time the chances are the search will of already been carried out for you, which is when you have to be a bit sneaky and find a way to get the property for a better price, if it genuinely has been priced up.
There can often be a difference of opinion between a lot of valuers as to how much a property is worth, so one valuer may value it at £200,000, while another will think it is worth £190,000. If you are looking at a property that you want to buy and think it is over priced then there a number of things you can do.
Valuing a Property Yourself
Depending on who owns the property you could take your own valuer along to asses how much they think the property is worth, the owners may or may not be very pleased about you doing this, so it is worth mentioning it to them and trying to find some excuse as to why you would need to do this, as they could see it as an insult.A lot of valuations are carried out automatically these days to save time, so it could be that the original valuer didn't even make a trip to inspect the property, which isn't always the best way to do things.
Another trick that people often have up their sleeves when it comes to valuing a property is to compare it against other houses on the same street that may be in a similar price bracket.There are a number of websites available where if you type in the postcode of your chosen house or a house close by it, it will tell you how much the house sold for and when. This can also give you a good idea as to whether house prices in that area have gone up or down over the past few years. If you find that a similar house next door sold for a lot less within the same year, then you may be in a good position to lower your offer and try and get the property for a cheaper price.
It may seem like a tug of war at first, as the person selling the property will inevitably want to get as much as they can for it, while the person buying it will want to purchase it for the best price they can get, hopefully a happy medium can be found.
It is always worth putting a bid in below the asking price of a property, as you have nothing to loose, but if you are really serious about the property then unless you are 100% confident this may not be the best tactic to play. When the housing market is good people will normally offer above the asking price, but if a property crash looks like it is on the horizon then people will try their luck and offer lower.Depending on how much a lender is willing to lend to you for your mortgage, it could mean that offering lower than the asking price means the difference between you owning your dream property or merely dreaming about it. So, do your research, see how much other properties have sold for in that area and put on your bargaining hat.
You might also like...