Completing your Mortgage Application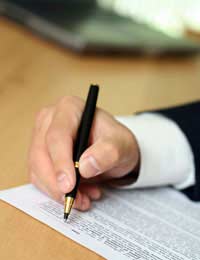 When applying for a mortgage you will be required to fill out a mortgage application form. This is one of the most tedious parts of the mortgage process and can be very time consuming and frustrating if you don't know what you are doing. The good news is that it needn't be that way, you just need to make sure you have everything in place when it comes to what you need to supply.
Don't expect to keep anything a secret on your application, the lender will want to know everything about you, your finances and your lifestyle, and you will be expected to prove it.If you are applying for a self-cert mortgage then the application process will be even more of a burden as you will be expected to prove your income.
What you will need to Take with You
When filling in the application you will need to supply at least your last three months payslips and any extra proof of income to show what you have earned.You should also disclose any other payments you may receive for any work or any extra earnings.
You also need to declare any outstanding loans you have, so if there's a huge credit bill lurking in your drawer it is best to disclose this just to be safe. A lender will normally only be interested in debt of more than a few thousand pounds, as this could effect your ability to pay back the mortgage.
You should also have with you details of anything else you have to pay, there could be a number of things that you might not think will come into consideration such as any benefits you have to pay or any you might receive. If you are unlucky enough to have had any county court judgements made against you, you will also need to bring details of these when filling out the application. And most importantly you will need to supply some form of identification.
Ask for help
It is always best to get some help when filling out a mortgage application form, or you may find yourself banging your head against a brick wall.You may have a friend or family member that has already gone through the process and who you trust enough to show all your finances too.If you go to a mortgage broker or take your form into your lender they should be able to help you out and fill it out for you.A lot of lenders send back mortgage application forms because they don't think they have been filled out properly, try not to let this happen to you as it can delay the process and out your application to the back of their pile.The best thing to remember when filling out a mortgage application form is to disclose everything and be as truthful as you can. Try and provide the lender with everything they need and don't be afraid to ask for help filling out the form. Just remember, they are not trying to catch you out, and will want to do their best to offer you a mortgage, but they can only do that if you play your part.
You might also like...