What to Do if You Can't Afford a Mortgage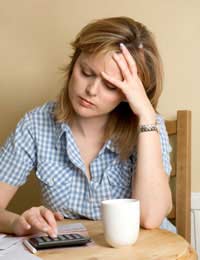 Before you start picking out wallpaper designs and choosing carpets, it is first important to establish whether you can afford a mortgage.A lot has changed in the mortgage market over the past year, and despite the fact you may have been able to afford a mortgage a year ago, the same might not be true now.
The main stumbling block for many first time buyers will be getting a deposit. Up until a few months ago lenders were willing to give mortgages to those that didn't have any deposit at all, or even wanted to borrow more than the house is worth. Nowadays, unless you have special circumstances you will find it very hard to find a lender that is willing to lend to you without a deposit.
It is a lot harder to borrow in today's market than it was a year ago, lenders are being picky about who they lend their money too, so it is best that you do everything you can to make yourself look like an attractive candidate.
What you Can do to Afford a Mortgage
Don't despair, even if you find that a lender will not give you the money for the house you want, there still might be a way around it.
Your first step should be to look at whether you could downsize to a smaller property, it doesn't have to be forever, but it might mean you can still get on the housing ladder.If the reason you can't afford a mortgage is because your mortgage repayments will be too high, it might not sound ideal, but you could opt to pay your mortgage off over a longer period of time. It's not a comforting thought to think you may be paying your mortgage off for the next forty years, but it is one way that you have of negotiating with the lender. Your repayments will be a lot lower on a monthly basis if you extend the term of your mortgage, so instead of taking out a twenty five year mortgage you could instead taking it out for thirty or forty years.
If you cannot afford a mortgage because you simply don't have enough money for the deposit, the best thing to do would be to wait and take some time to save some money. If you have a small amount of money saved up you could even buy a very cheap property and rent it out, after a few years you should be bale to sell the property and will have a hefty deposit to put down on another property.
Borrowing Money with a Bad Credit Record
In today's mortgage market I'm afraid it's bad news if you have any black marks against your name in terms of your credit history. Lenders were more than willing to lend to this type of borrower a year ago, but now because the US mortgage market has been burned by these types of borrowers, UK lenders have also stopped accepting this type of client. If you do have a bad credit record and are classed as a sub-prime borrower, you will either need to wait for a few years until the mortgage market and lenders have regained their trust in this type of lending, or wait until your credit record cleans itself up.
Nothing is ever set in stone, just because you can't afford a mortgage at the moment, it doesn't mean you won't be able to in the future, it may take some extra saving. Ultimately you should be able to find your way onto the housing ladder, and just think how more rewarding it will feel when you finally do own your own home.
You might also like...