Where Should I Go for a Mortgage?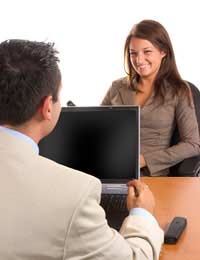 Every man and his dog seems to be offering mortgage advice at the moment, ranging from the local supermarket to your estate agent.
When it comes to seeking advice it is fine to window shop, but be careful not to apply for lots of different mortgages, as it could leave what is known as a footprint on your credit score and work against you.
These few questions offer some guidance regarding where to go for mortgage help.
1) What Are Your Personal Circumstances?
A) I am self-employed and have a somewhat colourful credit history, having been declared bankrupt once before.
B) I am a first-time buyer with a steady income, but I do have some other debts which I would like help in paying off before I get a mortgage.
C) I have a good credit history and have at least a 10% deposit for a property.
2) What Are Your Main Objectives?
A) I want somebody else to do all the hard work and paperwork for me and I don't mind paying a fee for this.
B) I want the cheapest mortgage interest rate possible.
C) I ideally want everything in one place, such as my mortgage, my savings and my current account.
3) How Confident Are You?
A) I really don't have a clue when it comes to mortgages, I want somebody to explain to me what all the different deals mean.
B) I have had a mortgage in the past but I would still like some advice.
C) I am quite confident and familiar with how the mortgage application process works and I don't need any help with this.
4) Do You Just Want Mortgage Advice?
A) When I apply for my mortgage I also want to speak to someone about my pension, insurance policies and savings.
B) I mainly want to discuss my mortgage but have no objections discussing other financial matters.
C) I purely want mortgage advice.
Your Answers
Mostly A – You Need Advice
It sounds like you would benefit greatly from speaking to somebody face to face about your finances and your mortgage.
A price comparison site or an internet lender might not be able to offer you the help you need. If you have any marks on your credit history or have in the past had financial problems, you will benefit from speaking to a mortgage broker. They will often have access to deals that some high street lenders don't offer. They can also delve into your finances and assess your affordability for the mortgage.
Mortgage brokers work in different ways, some will offer you whole of market advice but charge you a small fee. This means they will search all the lenders in the mortgage market and find you the best deal, even if it means you need to go direct to the lender . While others will not charge a fee but can't offer you access to lenders direct products. You should check with a local mortgage broker what policy they operate before you make your appointment.
Mostly B – Shop Around
A number of routes should be available to you when choosing your mortgage. You seem to have a few question marks over your finances, but nothing that can't be ironed out. If you want the cheapest mortgage rate possible and have no adverse credit history it is worth shopping around.
You could visit a mortgage broker first and see what they can offer you. There is no obligation to go with the rate they offer you, but you could use it as a starting point. After this, once you have decided if you want a fixed or tracker rate you should make enquiries at your bank and other high street banks to see if they can offer any deals that are cheaper.
Mostly C – The Choice is Yours
You should not restrict yourself to just one source of advice. You seem to be in a good position financially and should be able to find a good deal. There is no harm in using the internet as your starting point and going onto comparison sites and typing in your details.
You could use this as a starting point and go off to other areas to see what they can offer; speak to your estate agent, mortgage brokers and your local bank. It shouldn't take long to do a quick shop around and it will be worth it in order to get the best rate.
Whichever mortgage rate you end up with you can never be 100% sure that you have exhausted all possible options. You should make sure you seek advice from someone you trust and feel comfortable with, whether that be face to face, over the phone or even online.
You might also like...