Your Rights when Sharing a Mortgage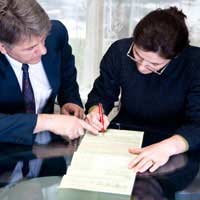 When it comes to sharing a mortgage one of the most important elements of that mortgage is that you know your legal rights when it comes to the property and who owns what.You may start out in a loving relationship or even buying with your best friend, but if things turn sour then you need to make sure that you are not left out of pocket.
The Legalities
The most important document that you should have in your possession when it comes to sharing a mortgage is the Declaration of Trust, or as it is sometimes known, the Deed of Trust.This legal document will clearly state what rights you have regarding the property and what responsibilities you must withhold.
It is used as a legal document which will act as proof as to who owns what share of the property and also what deposits you both put down before buying.By having this document it ensures that when the house is sold you will both get what is owed to you, without the declaration you could be in a for a bumpy ride when it comes to agreeing who gets what if the property is sold.
When forming the declaration it is important that you have your solicitor present, as should the other person. You need to make sure that you agree and understand everything that is written down, as you will need to sign the document. It is important that you both agree while separately looking after your individual interests.If your relationship turns bad when you are sharing a property, the separation process will not be too dissimilar from a divorce, and you will both need to make sure you walk away with your assets.
There is no set structure to how the deed should look, it could only be a few pages long, and simply state what will happen when the house is sold, or you may wish to go more in-depth and explore all options relating to the sale of the property.
What else the Deed Should Include
The deed should also clarify what payment each person will make to the mortgage each month, as well as bills and costs for the upkeep of the house. By agreeing to what you will pay, this also ties yourself into making sure you follow the rules. You may not be thinking about it at the moment, but it is a good idea to have in the deed what should happen if one of you decides that they want to move out in a few years. Be careful though, what you agree in the deed could mean that you are legally obliged to follow it to the word should the scenario become reality.
It is not uncommon for shared buyers to have a Cohabitation Agreement, although this isn't legally binding it can set out guidelines as to what rules you need to follow when living together, which can help to make a happy home.
Most people who buy property together will find that they get on fine and never have any problems regarding who owns what, however it is always best to prepare for the worst, you never know what is around the corner, so always make sure first and foremost that your interests have been looked after.
You might also like...