Sharing a Mortgage with Strangers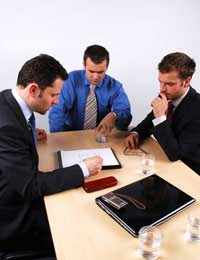 It may be that you have your heart set on buying a property but just can't seem to find anyone to buy with.You may have asked friends, family and work colleagues, but still can't find anyone to buy with you, which could mean you turn to a stranger for help.
On the face of it, it does sound very risky and a bit like a lottery, images of all sorts of people might spring to mind when you think of whom you might end up sharing with. But in reality there will be thousands of people in the exact same situation as yourself, they may want to buy a property and have the means of paying half a mortgage, they just need to find someone to share with.
What are the Options?
Obviously if you decide to get a mortgage with a stranger it is going to be a lot trickier then if you are lending with a friend or family.You may both want different things out of a property and may even want to live in different areas.
One option would be to find somebody who simply views the purchase as an investment, which might mean they will not want to live in the property with you, however this might mean they will want to charge you some form of rent for their share or take a bigger percentage when you come to sell the property.If you find somebody willing to invest in a property who will allow you to live in it you will probably have to do some form of pitch to them and will need to convince them that the house will not only grow in value, but also that you are reliable with your finances and will be able to keep up with your payments.Whoever you choose to share the property with it is important to seek outside help through either a broker or a solicitor, so that everything is written down and both your finances are examined before you enter into a deal.
How to find someone to Share With
Your first port of call to find someone to live with will probably be the internet. Believe it or not there are a number of businesses and websites out there that have been specifically designed to find suitable matches for people living together, a kind of dating agency for homebuyers. It is worthwhile using these services as a good starting point and you will most likely be able to match your details up with somebody who has the same aims and ideas as you. It goes without saying that you should probably get to know the person first before entering into a mortgage contract with them. It helps if you at least get on with the person, and it may even be that they want to share the property with you, in which case it will be paramount that you both get along.
Sharing a property with a stranger is not for everyone, but for those out there that don't mind sharing with a stranger and making a financial commitment with someone they don't really know then it has a lot to offer. It is a way to get you and another person on the housing ladder and you could look back and think it is the best thing you ever did.
You might also like...