Buying Abroad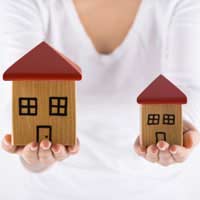 If you spend your days dreaming about what it would be like to live in a hot sunny climate and not rainy old England, then buying property abroad could make your dreams come true.Whether you are looking to buy a holiday home or move to another country to start a new life, buying abroad has some major advantages. Not only is the weather a lot nicer in some other parts of the world, but the house prices aren't too dismal either. Buying within other European countries such as Spain, is becoming increasingly popular, and it is easy to see why, the temptation of having a swimming pool in your back garden is too much for some people. If you fancy moving further field, such as Australia, then things may get a bit more complicated, but still within reach.
Who To Go To When Buying Abroad
It is best to go and visit a mortgage broker that has some experience of dealing with properties abroad, as it can be a tricky game to play.The legal system in a lot of these countries is far trickier than here in the UK, so it is important you seek legal advice. Your broker should be able to recommend a good solicitor who deals with buying properties abroad.You may also have to be prepared to open up a bank account in the country that you want to buy in, beware though, our foreign friends are no so lenient when it comes to missed mortgage payments, so make sure you stay on top of things.
Carry Out All The Right Checks
You should treat any property that you buy abroad in the same way as you would in the UK. If they are buying a holiday home, a lot of people are so excited about the prospect of buying the home and moving to a new country that they forget to carry out the necessary checks.It is even more important when you are buying abroad to do your homework, there will be a lot more things that you will not understand, such as their tax system and way of life. You could easily slip up on something just through cultural differences.
There are many specialist broker firms that will only deal with buying properties abroad, so it is best to go to them. When you visit your adviser, ask them to give you some examples of properties they have arranged for people in the past. It might also help you with the process if the adviser can put you in touch with anyone who has brought abroad before, as they may be useful to speak to. Buying abroad is a lot bigger challenge then buying in the UK, and although the process might leave you out of pocket, the chances are you will be able to get a lot more for your money when it comes to what type of property you want to buy.
Buying abroad can be a great experience, you have all the excitement of buying a new home, as well as moving to another country, and hopefully a better life, however it is for that exact reason that you need to exercise a bit more caution. You need to make sure you understand the legal system there and seek the advice of a professional who has carried out similar transactions in the past. It is important that you stay in check with reality when buying your dream home, and treat it the same as buying any property in the UK.
You might also like...