Buying Property Cheap and Selling on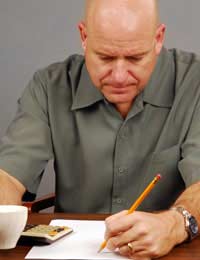 While you may want to buy a property, you may not necessarily want to live in it. A lot of people are under the impression that they can make a quick buck by buying a run down property cheaply and doing it up and selling it on.
When Buying and Selling is a Good Idea
Don't be fooled, there is no fast money to be made in the property market without putting in the work first.A lot of amateurs are now trying their hand at renovating property to sell for profit, this is partly due to a rise in the number of television programmes showing how easy it is to do just that.As you can imagine these sometimes make it a lot easier than it is. However, if you do fancy giving property renovation a go then there are a few things you should consider first.
Try and pick a good location, do you research and find out if house prices in that area are going up or down. Ask local agencies what demand for housing is like in the area and whether you will be able to sell the property on quickly.
You need to make sure you get the property at a good price in order to make a good profit, you should speak to a surveyor first and find out how much work needs doing to the house and how much value it would add to the property if you carried out the work.You should then go and see a builder and ask them to give you an estimate as to how much the work will cost.
What to Remember
Selling your property after having renovated it means you still have to pay all the same costs as you would if you were remortgaging. If you are moving on to a different property and remortgaging or just selling the property outright, you are likely to face a substantial early repayment charge, which is what the lender will charge you for getting out of your mortgage early. You may also find yourself having to pay high legal costs.
The best thing you can do if you are renovating a property is to be quick about it. You do not want to find that while you have been busy doing up your property the market has crashed. You must also remember that if you are not going to live in your property, then you will have to pay rent or another mortgage on where you are staying, this will equate to a lot of outgoings, so make sure you can afford it.
Most people will find that they don't make a lot of money from the first property that they buy to sell on. It is only from experience that the big money comes, unless you are very lucky off course and choose the right property.
You should think carefully about buying a property for the sole purpose of selling it on straight away. Unless you work in the trade and have good contacts then the chances are it will be a costly gamble that may or may not pay off.
You might also like...