Taking on a Business Partner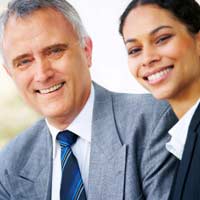 Depending on how you view your mortgage will depend on whether or not you should take on a business partner.If you are a first-time buyer and you have your heart set on building a home for yourself in your own property, then a business partner will not be for you. If on the other hand you view buying your first property as a business transaction and something to make some money on, then it may be best to share this burden with someone else of similar thinking.A business partner will not only be able to share some of the risk involved in getting a mortgage, but you will also be able to offer each other support.
Who to have as a Business Partner?
When it comes to matters of money, it is always best to go with someone that you trust and know, however, there may not be that many people that you know who want to invest in a property.This is where a lender may come in and be able to act as your so-called business partner in a sense. There are a number of schemes on the market at the moment where a lender will jointly own your home with you. These are not readily available and you will most likely have to go to a mortgage adviser to find out about them.However, in certain circumstances, especially if you opt for the key worker mortgage, a lender may be able to buy part of the house and then you can buy them out further down the line. However, this is probably not the best route unless you really have to, as lenders will often make a nice profit if the house goes up in value.
Another scenario where it is a good idea to take on a business partner is when you are buying a property with the aim of renting it out. You may be able to pitch the idea to someone that you already know, and demonstrate how they will make a profit from their investment. In a sense you will also have to make a partnership with a local letting agency if you want them to manage the property. It is worthwhile finding out how much they will charge you to mange the property, as this could leave a hefty hole in your pocket, depending in which agency you choose.
Partnering with a Stranger
It is not unknown for buyers to team up with complete strangers to buy property together, and while this can work, it is probably best advised not to do this, unless you have done a thorough check of their references and are satisfied that you trust the person. One way around this problem might be that the two of you both use a solicitor or a letting agency as your go-between so they will pass on all the relevant information to you both and make sure that you are both doing everything properly.
Taking on a business partner can often be tricky thing at the best of times, so to do this when you are making one of the biggest financial commitments of your life, needs extra consideration.Although there are many positives to taking on a business partner, such as shared expense and responsibility, you should think long and hard before you commit yourself and join into partnership with someone else, as you may find down the line you both have different ideas.
You might also like...