Getting a Deposit for a Home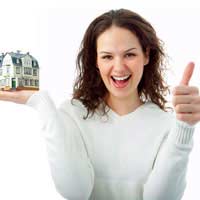 You may think that a deposit is unnecessary if you have been offered a mortgage for the full value of the property, but the best thing you can do is put down as high a deposit as you can in order to make the rates that little bit lower.Your wallet may look empty at the moment, but there are a number of things you can do to save that extra bit of cash that is needed for a deposit.A good deposit should be around £15, 000 or slightly more or less depending on how much the house is you want to buy.
Where to get a Deposit
The most common way to get a deposit for a property is still from the bank of mum and dad. If you are a first-time buyer and want to escape from the family home the best way of doing this may be to ask your parents for a deposit or ask if you can borrow the money from them and pay it back in instalments, hoping that they won't charge you any interest.You may think it cheeky, but one of the best ways to get the deposit is to lend from a family member or friend and pay them back over a set period of time. There is off course the old fashioned method of saving up your deposit, there are a number of bank accounts or savings accounts that you can open which will offer a high interest rate and make saving up for your deposit a lot quicker. If you take the money out of your wages for example, it could go direct into a savings account and after time you would not notice it.
Another method of getting a deposit, though one that is not highly recommended is to get a loan from an alternative lender and use that as the deposit. You may have to do some calculations as to whether this will actually work out cheaper in terms of how much interest you are paying. However, if a lender is only willing to lend you 90% LTV then you could have little option, you would have to be careful though, as this extra loan would also be taken into consideration when the lender did a credit check on you, so it could be that they wouldn't favour you taking out a loan to pay the deposit.
Trying to save up for a deposit may seem like hard work, but just look at it as the start of your mortgage payments. Saving up for a deposit is good practice for the future and when you will probably have to pay more than you are paying now in rent, so look at it as you are already starting your payments.Saving up for your deposit is one of the hardest parts of the mortgage, but well worth it. You will find that you will get a much better reaction from lenders if you already have some money to invest into the property, and they will reward this with a lower rate.
With all the temptations in today's society first-time buyers find it particularly hard to save up enough for a deposit for a property, but there is no escaping it, the sooner you start saving the quicker your dream property will be yours.
You might also like...