Loan-to-Value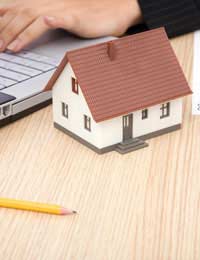 Why is the Loan-to-Value important?
You will often hear lenders and brokers refer to the LTV, this simply means the Loan-to-Value or how much a lender is willing to lend to you. They judge the value of the property that you want to buy against how much you earn, and work out how much they think you can afford to pay back. For example, you may wish to buy a property that has been valued at £200,000, if the lender will give you an 80% LTV this means that they will lend you £160,000, and you will have to come up with the rest of the money yourself.
It is hard to judge what a normal LTV is, it all depends on which lender you choose and which type of mortgage you are getting. If you want to take the interest only route or take a discounted mortgage then you may end up being able to borrow a lower LTV. However, if you are taking out a prime mortgage for a property worth £130,000 then you may be able to borrow up to 125% of the property's value.
What's Wrong with a High LTV?
There has been much debate and controversy in the media surrounding lenders that are offering high LTVs. It used to be that quite a few lenders offered 125% LTVs, this is slowly decreasing though as they come under criticism for lending irresponsibly, and also because the higher the LTV the more riskier the mortgage is portrayed.
You may find a property that you want to buy, visit a lender and they will tell you that you can borrow the value of the property and a bit more, in order to fund any new furniture or any work that needs doing to the property. However the market is unpredictable and you may find that when you come off your two-year fixed rate further down the line that no lenders are offering the high LTV products anymore. This would be more than a shock if you borrowed 125% LTV and the lender suddenly tells you that they will now give you 80%. In this circumstance you may have to take out further loans to fund the extra cost of the mortgage, which is unmanageable in the long run.
Why a Smaller LTV may are Better
When it comes to LTVs, the smaller you can go the better. This may mean having to settle for a smaller property or waiting a while and saving up a higher deposit. In the worst case scenario you do not want to be told in two years time that you can no longer afford a mortgage, so it is worth being sensible to start with and playing in safe in terms of how much you lend. Don't think that just because the lender is willing to lend you the money that it is some sort of reassurance that you will be able to pay it back or that they have faith in you, you have to think about it sensibly.
Like any part of the mortgage process you should always go with what you feel comfortable with, it is best not to stretch yourself. The mortgage market is a changing place so make sure you don't get caught out, it is always better to allow over budget rather than loose out in the long-term.
You might also like...