Mortgages and Extra Loans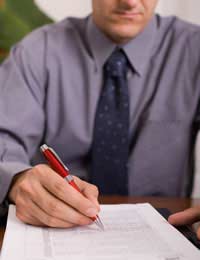 You would be surprised how many people think that their finances are not very good, when in fact they are. A mortgage is just like any other loan you can get, and it is paid back in the same way. One common mistake people make when they come to get their mortgage is they think that because they haven't had any loans in the past than that means that they will be looked on favourably and the lender will be happy to lend them money. Wrong. A lender is likely to look much more favourably on a borrower who has taken out a £10,000 loan to pay for a car for example and then paid this back in full, as oppose to someone who has never had a loan in their life. This may seem crazy to you, as you may think, well why? Surely if you haven't needed to take out a loan before it shows that your finances are in good health and that you haven't been in any debt. This is not how the lender will view it, the person who has paid back the debt will be much more of an attractive candidate, they have shown a history of repaying a debt and not missing any repayments. So, in fact the higher the loan you have taken out and paid back in full, the better this will look on your credit record. The same applies if you have never had a credit card in the past.
A lot of people may never have a credit card, but if they have no other debt they would be advised to take one out before applying for a mortgage, just because it gives you some experience and shows that you have a history of dealing with credit.This is not to say that you should go out and get into a lot of debt before applying for a mortgage, but simply that you should make sure that you have some sort of experience. On the other side of the coin, if you have taken out a lot of other loans and have not paid these back then that will not work in your favour.
Trying to get a Loan with a Mortgage
Don't think just because you have a mortgage that you will not be able to get a loan further down the line if you need one. Mortgage holders can still take out extra loans to buys cars, holidays etc, and they will not be frowned upon because they already have a mortgage. A lot of borrowers will be able to take out top up loans which can be added onto your mortgage and may work out cheaper than getting a separate loan. If you have shown that you can pay back your mortgage payments and are able to pay back a loan on top of this there should be no reason why you shouldn't also still be able to take out other loans.
When it comes to getting extra loans on top of your mortgage, many people will avoid this as they will think they are already in enough debt. However, there is nothing wrong with taking out loans on top of your mortgage, and if you do take out a loan before you get a mortgage it might even help you improve your credit record. As the saying goes, everything is ok in small doses, so as long as you don't borrow more than you can pay back, you should be ok.
You might also like...