Can you Afford your Mortgage?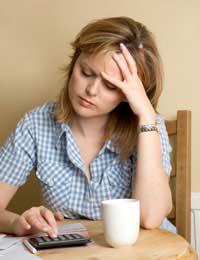 It is a harsh reality that many people can simply not afford to get on the housing ladder, despite lenders offering first-time buyers up to five times their income unfortunately that still may not be enough.Many people just assume when they are younger that they will automatically be able to get a mortgage when they are older, but as house prices slowly increase, more would be first-time buyers are finding themselves stuck living with their parents or make doing with renting.It may be that renting is the best option for you, you may see it as throwing money down the drain, but it could work out cheaper and you don't have any responsibilities when it comes to looking after and maintaining the property.However for many this will not be enough and the urge to own their own home will just prove too strong.
How to Afford a Mortgage
There are a number of steps that you can take that could mean the difference between you being able to afford a home, or living with your parents.While nobody wants to live in a shoe box, when you are thinking about getting your first home it is worth aiming as low as possible, remember, you are not going to be living there forever, and you can always upgrade in a few years.Similarly you could choose a different location or get a flat instead of a house.
However if you have exhausted all options, such as sharing with family and friends, or getting a 100% mortgage then it is worth looking at your finances and finding new ways that you can increase your eligibility for a mortgage.
It may be that you do not earn enough money to get a mortgage or you have a bad credit rating and are finding it hard to get someone to lend you the money.It may be worthwhile taking on a part time job as a temporary solution, you could earn some extra cash and try to save up a deposit, this would make you a much more likelier candidate for a mortgage.
It is also worth making sure that your credit rating is as good as it can be, which means you may have to tackle any outstanding credit or store cards before you apply for a mortgage. It is surprising how much you can improve your credit rating just by making a few changes and paying off some outstanding debts.
Shopping Around
You should always shop around when it comes to getting a mortgage. It may be that you visited your local bank down the road and when they said no you decided to give in. There are a vast array of lenders out there, so it is worth going to visit a mortgage broker that can offer you the whole of market and will try their best to get you a deal.
With the number of lenders and products on the market you stand more of a chance than ever of being able to get a mortgage. However if you have to wait a while it is not the end of the world. Getting a mortgage will be the biggest financial decision you will make I your lifetime, so it is worth waiting until you feel comfortable you can afford it.
You might also like...