In Mortgage Arrears: What Can I Do?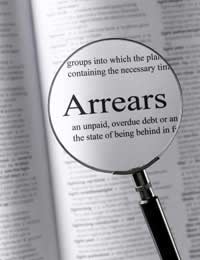 Unfortunately more people are finding themselves in arrears than ever before. A deadly cocktail of high unemployment and rising costs means many have fallen behind on their mortgage payments through no fault of their own.
Lenders are increasingly using extra forbearance measures to keep people in their homes and avoid repossession, but ultimately if you do not pay your mortgage arrears the lender will seek to repossess your home.
Measures You Can Take
The easiest time to get out of arrears is when you first find yourself in them. The larger your catalogue of miss-payments the harder it will be for you to get out of them.
The first thing you should do is speak go your lender and tell them you are having difficulty paying and they should work out a repayment method with you.
If you know your financial situation is going to improve in the near-term you may want to ask your lender to temporarily reduce your payments and they can increase them again at a later date.
They may allow you to reduce your monthly interest payments or move onto an interest-only repayment method. You may also be able to increase the term of you mortgage or remortgage onto a cheaper deal elsewhere. They key is to speak to your lender as soon as you can, they are more likely to implement one of these measures if you speak to them sooner rather than later.
You may want to speak to a mortgage broker or adviser about this and get their help in penning a letter to the lender outlining your predicament and try and provide proof of what you can afford.
Budget Time
You will need to sit down and work out how much you can realistically afford to pay to your mortgage lender each month. There are several ways in which you could choose to lower your arrears, with your lender's agreement. One option might be to add them onto the capital of your mortgage so they are rolled up and extended over the term of the mortgage, or you could choose to pay them off all in one lump sum.
You should check whether you are eligible for any benefits that could help you pay your arrears. The Support for Mortgage Scheme is designed for those who are jobless and need help with paying the interest on their mortgage. If you were able to get help paying the interest this would free up some money to pay off the arrears.
If You Cannot Pay Your Arrears
If you find it is impossible to pay your arrears and your lender is not accepting what you are offering they may take you to court and try and take possession of the property. If they do this there are certain protocols they will need to follow and steps they need to take to satisfy the court that they have helped you in every way to pay your arrears. They will also need to give you notice that they are going to repossess and evict you.
Other Options
The worst case scenario which you do not want to happen is that the court ends up selling your home for you. If they do this and they do not sell it for a good price or enough to cover your outstanding mortgage you will be liable for any shortfall. If you can really not afford your arrears it is best to sell the property before the lender does and pay back as much of the mortgage as you can. If you sell the property yourself you are likely to get a better price for it.
Are Lenders Being Fair?
There have been a number of high profile cases and fines handed to lenders by the Financial Services Authority for their unfair treatment of customers in arrears. Some examples of lenders treating those in arrears unfairly include where the lender imposes unfair fees that are more than it cost to process the case,such as a fee for early repayment of a mortgage that was also levied on the accumulated arrears fees and charges that had been imposed on the borrower.
If you feel you are being treated unfairly by your lender you should first complain to them and if you still feel you are being treated unfairly make a complaint to the Financial Ombudsman Service.
It is important to be realistic about your situation when you find yourself in arrears, the best thing you can do is work out a budget and speak to your lender, after all it does not benefit them or you if they repossess.
You might also like...