Questionnaire: Are You at Risk of Negative Equity?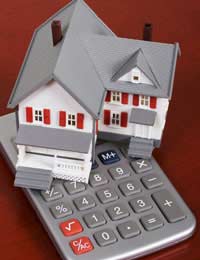 It is predicted that millions of homeowners will fall into the negative equity trap over the coming months. House prices are starting to plummet and if you've paid over the odds for your property in the first instance you could fall into the red.
Negative equity normally occurs when you buy a house when the housing market is booming, once the market starts to correct itself and house prices fall the value of your house is at risk of dropping, meaning you are paying a mortgage for more than the value of your property.
The few questions below should help you determine whether you are at risk of falling into negative equity.
1)When Did You Buy Your House
a)Before the 1990s
b)Early 90s to late 90s
c)Between 2000-2005
d)2005 onwards
Answers
a)If you bought your house before the 1990s it is very unlikely that you are in negative equity, unless for some unique reason your property has slumped in price. Before the 1990s it was a lot harder to get a mortgage and people tended to borrow less.
b)There is a risk you are in negative equity, but it is only small, there was no great housing boom in the 1990s and even if your house had lost some of its value in recent years it will have had time to gain some ground.
c)2000 onwards was really when the housing boom took hold, you have an increased chance of being in negative equity depending on what type of property you bought.
d)People who have bought properties since 2005 are most at risk of suffering negative equity. This does not mean you definitely will, just that you will have bought your property when prices were at their steepest.
2)Type of house
a)Large detached house
b)Three-bedroom semi-detached house
c)One Bedroom Flat
d)New-build flat
Answers
a)Large properties are sometimes at risk of falling into negative equity simply because of their size and cost. If your property is worth over £500,000 you may find it difficult to sell in a housing market slump. However your property will always be in demand, which puts you at low risk.
b)Three-bedroom properties near good schools and close to local amenities are always going to keep their value. If you bought at the peak of the housing boom there is a good chance your property will have lost some of its value, but over a few years it is likely to regain it.
c)One-bedroom flats will always be in high demand for first-time buyers. During a housing slump however if first0time buyers can't find a mortgage you may be forced to lower the asking price for your property, which makes you medium risk.
d)If you have bought a new build flat you are at high risk of negative equity. In the early 2000s the market was saturated with new build flats and developers were overloading the market with them. A lot of them have been left standing idol and developers have to sell them off cheaply.
3)How Much You Borrowed
a)60% of the property's value or belowb)60-75% of the property's valuec)75-95% of the property's valued)95% plus of the property's value
Answers
a)You are at low risk of negative equity if you borrowed less than 60% of the property's value. Even if the value of your house has fallen, your mortgage repayments should be low and you should be in a good position.
b)Borrowing 60-75% of the property's value also puts you in a good position. It is likely you have already made a profit by selling another property and you will have some equity tied up in your current house, which means even if house prices fall, you will still own some equity.
c)If you borrowed 75-95% of the property's value you are probably safe, but there is a chance you could fall into negative equity if the property you bought has fallen in price.
d)Anything above 95% puts you in a very high risk category, if you borrowed up to 125% of the value you are most likely to fall into negative equity at some point, especially if your chose the interest only option and are not paying off any capital in your mortgage.
Sliding into negative equity is never an ideal place to be, but it is important to remember that unless you are moving property your negative equity will be on paper only. So if you stay put for a few years hopefully your property will regain some of its value before you decide to sell.
You might also like...