All About Base Rate Cuts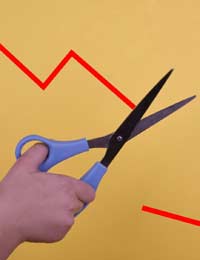 Each month a group of people called the Monetary Policy Committee meet to discuss whether the bank base rate should go up or down.When inflation is high the committee will normally try and work to reduce inflation, which could mean lowering the interest rate.
Since 1997 the Bank of England has had independence from the government in deciding what the interest rate will be. The Bank of England must make sure the interest rate prevents the inflation rate dropping below 2%.
A lowering of the interest rate can mean good or bad news depending on your financial circumstances. If the bank sets interest rates at a low rate it means you will not see much interest on any savings you have. Likewise the higher the interest rate the more interest you will see.
Low interest rates are good news for mortgage holders. If you are on a tracker rate, which means your mortgage follows the bank base rate then the lower the rate goes, the lower your mortgage payments will be. In a similar way if the interest rates go up, so will your mortgage.
Historically people tend to spend a lot more when interest rates are low because their mortgage payments go down and they see little point in saving the money because they receive such little interest from it.
What the Base Rate is Doing Now
The Bank of England has come under immense pressure lately to cut the interest rates in order to boost the economy. The Bank of England has succumbed to pressure and started to slash down the rate.
It has said it will carry on cutting interest rates to whatever is needed in order to breathe some life back into the market.A number of European countries lately decided to cut interest rates by 1.5%, one of the largest cuts that has ever been made. It is possible that interest rates could fall to 0%, although the economy would have to be in dire straits for this to occur.
Lower interest rates can help you to meet your mortgage payments each month but they do not always mean that you will be able to get a house any easier. Mortgage lenders will normally give you a mortgage based on how much deposit you have and what monthly repayments you can afford. An interest rate cut will help to make your monthly payments lower, but if you still don't have a deposit in the first instance than a bank is unlikely to give you the money for your mortgage.
If you are saving up for a deposit for your first home a cut in the interest rate could mean it will take you longer to save up for your deposit because you will not be getting as much interest as you normally would.
Lowering interest rates should also mean lenders cut their Standard Variable Rates, which is the standard rate at which they lend money. The lower their Standard Variable Rate the lower all of the lenders rates will be, which is good news for you if you want a mortgage.
Changes in the Bank's base rate can help or hinder you depending on which way they turn. You should keep track of what the base rate is doing, but don't necessarily assume that because rates have lowered you will be able to get a mortgage.
You might also like...