Pro's and Con's of a Self-Cert Mortgage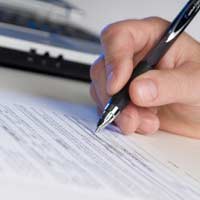 Whether you are employed or self-employed you should weigh up the pro's and cons of a self-cert mortgage before you embark on one. There's nothing to be afraid of when it comes to self-cert mortgages but you should keep in mind the potential risks involved, as this will lead to you being a more savvy borrower.
Advantages of a Self-Cert Mortgage
One of the most attractive features of a self-cert mortgage is that unlike a conventional mortgage, you will not need to supply proof of your income in the normal way, such as providing payslips and your P40.If you are self-employed, a self-cert mortgage is a useful tool and your best chance of stepping on the property ladder.
Self-cert mortgages are becoming a lot more mainstream, with a lot of high street and mainstream lenders offering them.Another good think about self-cert is that it lets you decide how much you earn, so you can include any extra bonuses that you may make throughout the year, which will help to increase how much money you can borrow overall.
The Financial Services Authority has done a lot of work into how self-cert mortgages are advised, so the chances are the advice you are given today will be better than that you may have received a few years ago.Self-cert mortgages are becoming more accepted by lenders, which means that rates for self-cert products are becoming more inline with more mainstream products.
Disadvantages of a Self-Cert Mortgage
One of the biggest stumbling blocks when it comes to self-cert mortgages is the need for the customer to verify their own income. Although you should have some degree of help with this from your adviser, the ultimate decision rests on your shoulders.Some people when faced with the option of claiming more than they earn in order to get a better mortgage unfortunately will choose to say they earn more than they actually do, which can land you in serious hot water, as this is potentially committing fraud. When applying for a self-cert mortgage you need to be very strict and honest with yourself and make sure you have not over-estimated what you earn in one year. However, ultimately it will be yourself that looses out because you will not be able to pay the mortgage.Another disadvantage of going down the self-cert route is that some lenders do still view it as having an extra risk, so the rates can sometimes be higher and you may not be able to borrow as much.
Historically self-cert has always had a bad reputation and it has drawn the attention of the financial regulator the FSA, it has found numerous cases of miss-selling of self-cert mortgages in the market.You need to make sure that you go to an adviser you can trust and doesn't advise or steer you into something that may not be completely true. Don't think that just because they are your adviser they know best.
When it comes to self-cert mortgages you should make sure that you are fully aware of what you are signing up to and make sure you are honest about what you earn. There is a lot of hype surrounding self-cert mortgages, a lot of it unwarranted. As long as you make sure you know what you are doing and are being advised correctly there is no need for there to be any problems.
You might also like...