Remortgaging for Repairs and Renovations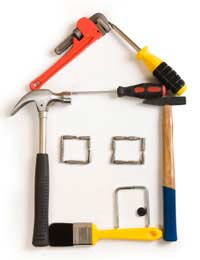 Remortgaging is one of the most common and necessary things for homeowners to do, but surprisingly very few actually get around to doing it. Most people assume they only need to remortgage when something is wrong, or they need more money. Everyone should remortgage once they have come of their fixed deal, or current offer, which will normally last two or three years, if you don't it will be more expensive. There will be costs involved in remortgaging, such as legal fees and arrangement fees, but the benefit and the cheaper rate you will get in return will often outweigh any costs you will have to pay. Remortgaging as a means to carry out renovations can often be your best option to get your finances in order. You may think it is cheaper to take out a loan, rather than pay the legal fees and arrangement fees, but a lot of lenders will build these into your mortgage or offer you them for free to try and get you to remortgage with them.
Remortgaging for Renovations
Mortgage lenders can sometimes be a bit tricky when it comes to taking out further advances on your mortgage. If you want the money for renovations and repairs though, they normally welcome this, as long as you already own some equity in the property. For example, if you own a property that is worth around £200,000 and you want to remortgage and take out a further £15,000 to renovate a kitchen or a garage, the lender will see this as adding value to the property, so in their eyes it will be a good investment.If you went to them and wanted to remortgage to go on holiday, they might not be so willing to give you the money.
You will stand a better chance of being able to lend the money if you already have some equity in the property, it doesn't have to be much, but anything above 20% should keep your mortgage provider happy.It may be that you will have to extend your mortgage for a couple of years to make way for the extra cost of the money you want to borrow. It may be that you end up remortgaging onto a different deal, just because you are extending out your mortgage it doesn't mean that you even have to stick with the same lender, it may be that another one is willing to offer you the extra money, when your own won't. It is best to discuss the options with your mortgage broker. You could also transfer the type of mortgage that you have from either a fixed rate to a tracker, or an offset mortgage, there are thousands of options, so just don't relay on your current mortgage provider.
Other Options When Remortgaging
Homeowners are going DIY crazy at the moment, thanks to the popularity of DIY programmes hitting the television screens. Loan companies have caught onto the fact that people are remortgaging to carry out home renovations. If you are not successful in remortgaging with your lender, then you could always try applying for a loan from your bank or building society. It will be better and cheaper in the long run if you can secure a remortgage to pay for the renovations, but if not, you will still have option.Remortgaging to carry out renovations and repairs is one of the most popular reasons for remortgaging. Mortgage lenders will look favourably on lending you the money to invest in your house, and it will work out cheaper and let you manage your finances better if you add the extra money to your current mortgage.
You might also like...