Facts About Repossessions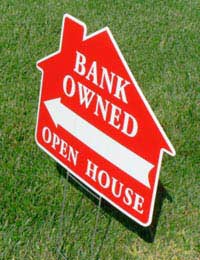 A couple of years ago nobody really paid much attention to repossession figures as they were not a major issue in the mortgage market, but as the credit crunch continues, repossessions figures are shooting upwards.
Increase in Repossessions
The main source of figures for repossessions for UK residential properties is the Council of Mortgage Lenders. It compiles all the data from residential lenders about how many properties they have repossessed.
It's figures do not make for pleasant reading and are enough to make any would be first-time buyer worried about buying a property.
Its latest data was released in February 2009 and shows that 40,000 people lost their property in 2008, which represents a colossal 1 in every 290 mortgages.
In 2007 only 26,200 homes were repossessed, so you can see that in one year alone the number of repossessions has almost doubled.
Of these 40,000 properties around 10,400 were taken into possession in the fourth quarter of 2008, which on the positive side was down from 11,100 in the previous quarter but still significantly up from 6,900 in the fourth quarter of 2007.
The good news is though that the 40,000 figure was 5,000 lower than the trade body's original forecast, signalling that there could be hope for a drop in repossessions.
What is Being Done
The government and lenders are making a huge effort not to repossess people's properties, they have introduced a number of measure which are designed to allow people to stay in their homes longer. The government has also introduced a scheme where it will help pay the interest on a person's mortgage if they find themselves unemployed or made redundant.
The Council of Mortgage Lender's data also includes buy-to-let repossessions, as well as home-owner repossessions.
On a "number of months" basis, 219,100 mortgages were in arrears of more than three months at the end of 2008, up from 166,600 at the end of the third quarter of the year, and up from 127,500 at the end of 2007.
Moving Forward
Unfortunately the future is not looking good for the mortgage market and the CML is forecasting the number of possessions to rise to 75,000 for 2009.
It is predicting that more people will default on their mortgage and be unable to repay their mortgage, resulting in their house getting repossessed. There are a number of factors that are set to increase the number of repossessions in 2009, the first of this will be a rise in unemployment. The government is already predicting a record number of people will be out of work by the middle of 2009, and if people have no money it means they will not be able to pay their mortgage.
Lenders are also cutting down on the number of mortgage products they are offering, so people that were able to take out a mortgage a couple of years ago may find that when they when they comes to remortgage they can not find a similar deal, which will force them out of the housing market.
Getting repossessed is never a pleasant experience, so it is important that you are aware it is happening and what can be done top prevent it. While it is true that more lender are repossessing, more lenders are also trying not to repossess, so if you are a first-time buyer don't let repossession figures put you off entering the mortgage market.
You might also like...