Getting Finances in Order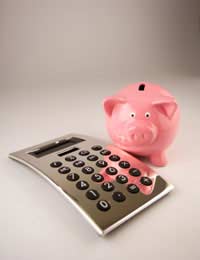 Before you embark on applying for a mortgage it is important that you look at your finances.It is not just your mortgage payments that you have to think about, but how your bank balance looks overall.It might be a good idea to get a credit check done before you apply for a mortgage, this will give you a good idea of whether you have a black mark against your name. It is all to easy to forget about some missed payments or outstanding loans from a couple of years ago, which could come back and haunt you further down the line.
Before a lender can give you a final mortgage offer they will need to do a credit check on you to see what your credit rating is. If you have had no missed payments and have paid off a loan successfully in the past the chances are you will have a good rating.However, if you have had a few missed payments or have an outstanding debt that you have been trying to avoid then you will find that this goes against your name.It is also worth getting a credit check done to make sure that everything is in order, sometimes a firm will have recorded you as not having paid a loan off when in fact you have, so you would have to contact them and make sure that they have the correct record for you.
The only problem with getting a credit check is that it will leave you with what is called a footprint on your credit record. You get a footprint every time a credit agency or finance company carries out a check on you. A lot of people are not aware of just how much this can effect your credit rating. For example, if you want to apply for a loan and go to five different lenders to get a quote then they will all do a credit search on you and you will be left with five footprints. The more footprints you have the worse your credit reference will be, which is why going to a broker can sometimes be beneficial, as they will only carry out one search.
Other Debt to Consider
If you are thinking about getting a mortgage and are already paying back a loan, it would be a good idea to wait until you have finished paying this back, as it will mean you have better control of your finances. You should also try and pay off any outstanding overdraft you have with a bank or building society, as that might come in handy if you need to dip into it in the future.
Having a mortgage to pay will undoubtedly make you more careful with your money and you will find yourself being more cautious as to what you spend and save, however the sooner you can your finances in order the better off you will be, so make sure you are on top of your finances before they get on top of you.
ABOUT MORTGAGING IS FOR SALE.
This website is for sale [more info].
You might also like...