Rising Repossessions Due to the Credit Crunch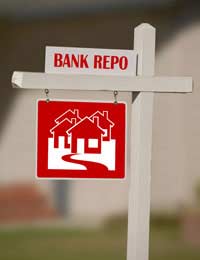 An unfortunate result of the credit crunch is that more mortgage lenders are starting to repossess properties. Repossession is the process the mortgage lenders go through when they take back possession of your house.If you have a mortgage on your property you may think that it is you that owns that property, but in reality it is the bank or the person that you have your mortgage with.
Repossession can be soul destroying for anybody that has to go through it. Losing your property is never an enjoyable experience and it can be devastating for those involved. Repossession rates are steadily rising as more people find they can't afford their mortgage payments.
Why Lenders Repossess
There can be all sorts of reasons why a lender or a bank will repossess your property, but the most common one is missed payments on your mortgage. The rate of unemployment is increasing and this coupled with rising fuel and food bills means that more and more people are falling behind with their mortgage payments and lenders are repossessing.
It may be that before the credit crunch you took out a mortgage that you were able to afford, but now the credit crunch has hit your mortgage lender may no longer offer that same product which means you are high and dry when it comes to finding an alternative.
When Lenders Reposes
Lenders and banks will only normally repossess as a last resort. Mortgage lenders need to follow legal protocol which determines when they can repossess. If you are fearful that you may become repossessed then you should speak to your mortgage lender straight away. The sooner you speak to someone about what is happening the better. In most cases your lender will be able to find an alternative to repossession.
It may be that they defer the payment of your mortgage for a period of time or they switch it to interest only. Ultimately lenders do not want to repose your property, they lose out on money by repossessing, so they will try everything in their power not to let this happen.
In some very rare cases a mortgage lender can reposes your property if you have fallen behind on a card payment. You will need to check the terms of your card provider to make sure that they cannot do this. Some credit card clauses will say that if you miss a number of payments they will take your property. If you have taken out a secured loan on your property they could also repossess your property if you do not keep up the repayments.
If You Are Fearful of Repossession
If you are worried that your property is going to become repossessed, your first port of call should be your mortgage provider. Your mortgage provider should be able to advise you about the best way of being able to save your home and what you can do to carry on paying your mortgage.
There are also a number of charities that have been set up which you will be able to telephone if you get into difficulty. Charities such as the Citizen's Advice Bureau will be able to offer you advice about different payment options and where you stand legally in terms of repossession.
Repossession comes hand in hand with a recession unfortunately and during this time the number of repossessions starts to stack up. If you are worried about repossession it is important that you seek legal advice and speak to your lender about the best way to save your property. Remember that repossession is a last option, so make sure you contact your lender and let them know where you stand so they can help you.
You might also like...