How and When Will the Market Recover?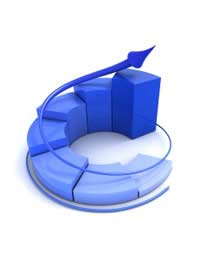 A crystal ball would be a great tool when it comes to predicting what the future holds for the financial markets. Six months ago everybody thought that the financial crisis had hit its peak and there was no way that things could get any worse. The problem is nobody really knows, the financial markets are going through unprecedented times at the moment and there is no telling when things will get any better.
Not even the best economist in all the land would be able to give you a precise indication of when the market will start to pick up again.
For the market to return consumer confidence needs to pick up and people need to start buying houses again. Until this happens there is little hope that things will get better.
The Signs To Look For
A good indication of when the market is starting to pick up is when you start to notice house prices in your area increasing or properties starting to sell. The house buying market is always the best place to start where the economy is concerned.
Another good sign that things are improving is if the Bank of England starts to increase interest rates. A large drop in interest rates signals there are problems in the financial market. If the Bank of England starts to increase interest rates again it must mean that they are confident in the market picking up and people are spending enough.
The media is a good indictor as to whether things are getting better. Once the newspapers start reporting that we are out of a recession then this will filter through into the housing market and both lenders and consumers will become more confident about the market.
When Lenders Start Lending
Mortgage lenders do not want to cut off their lending they just want to trim it down so they only get the good stuff. Once lenders are given the funding again they will be willing to lend to more borrowers. The American market will also have to pick up in order for it to have a ripple effect on the UK market. A lot of the UK banks are funded by American banks so it is important that these banks are able to supply funding to the UK.
The good news is that when the market does pick up it is likely to come back with some force. It could take the market around 12 months or longer to recover but at the end of it the housing market will have evened itself out and there will be a good chance that you will be able to get a mortgage. The financial market does not like to stay depressed for long, so a soon as it can get itself out of trouble it will want to.
There is no predicting what will happen next in the mortgage market. Most economists have given up predicting when the market will recover. It is important that you do not set yourself a date for when you think you will be able to get on the housing ladder as you could be disappointed. The best thing to do will be to sit tight and weather out of the storm.
You might also like...