Talk to Friends and Family about Buying a Home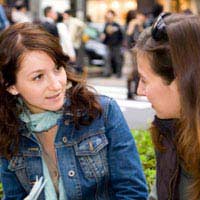 You may normally avoid seeking the advice of your parents or relatives as much as you can, but when it comes to getting your mortgage they can often work as your secret weapon.One of the more obvious reasons you should tell your family that you are thinking about buying a property is because if you are lucky, they may decide that they want to help you out financially and give you a deposit for the property. Your parents may also have to act as guarantors for your mortgage if the lender is not 100% satisfied that you will be able to pay back the mortgage.
Relatives will normally speak from experience when it comes to getting a mortgage and they may even have their own financial adviser that they can recommend and could offer you some form of discount. It is always worth sounding out your ideas on your family, especially if you are buying alone. It may also be that they know somebody who is selling a property which you will like, or they will be able to advise you about the right area to buy in.It is a good idea to take someone along with you when you go to visit an adviser, as two heads is normally better than one, and by having someone else go with you, you will have an extra set of ears for anything that you may miss.
You don't necessarily have to take the advice that is offered by your relatives, but it is worth speaking to them first, especially if you live close by.They will not only help calm any worries you have, but could also effect the type of mortgage you get, for example you may not know that one of your aunties is set to come into some money that they were going to give you a share of, or something similar. It is always worth telling as many people as you can about your plans, obviously without broadcasting them to the world.
Speaking with Friends about your Mortgage
It is unlikely that your friends will be able to help you out with your mortgage process financially, unless off course one of them wants to buy with you or works as an adviser, but this doesn't mean that you still don't have to speak to them about it. If none of your friends have a mortgage, one of the hardest things to do can be making them understand that you will no longer have as much money as you used to when it comes to going out and spending. If you keep them involved throughout the process, without revealing all your finances, you could find that they are a lot more understanding and will appreciate all the expense. In some cases you can also have friends that will be able to act as guarantors for the mortgage, but they would certainly have to be good friends to take on that amount of responsibility.Your family and friends are the ones that know you best when it comes to your finances, so if they think that you are taking on more than you can afford or they know you are a spender and not a saver, they may be able to advise you as to what mortgage might suite you best.
There is nothing to be lost by speaking as openly as you can to family and friends, they should be able to support you and lessen some of your worries about the process, they are also the ones that know you best when it comes to your finances, so it is worthwhile listening to what they have to say.
You might also like...