What to be Aware of when Buying your First Home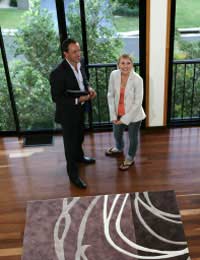 The first thing that you should be aware of when it comes to getting your first home is that it is something that can't be rushed, you should look at the market carefully and consider all your options. Don't think about it as just being in the present, what you are making is a long-term investment, so it needs some planning.Don't be rushed into anything by an adviser, always go away and think about any advice that they give you and sleep on it. What may seem like a great idea one day may not look so wonderful the next day.Always remember that it will be you who will have to pay back the mortgage in the end, so don't aim too high. If it is only your first property, take your time, there is always more time to borrow more in the future once you have seen how things are going.
Become Financially Savvy
Up until getting a mortgage it may be that you didn't even know how much was in your bank account month on month, but this will all change once you enter the world of mortgages. You will have to become more financially savvy and take interest in any financial news that may be happening. This doesn't mean that you have to buy the Financial Times everyday, but it does mean that you should always make it your business to find out what the interest rate is doing each month and how this will effect your mortgage payments. You will need to keep on top of your finances in a way that you have never done before. Your mortgage will probably be the most important investment you make in your life, and you do not want to risk jeopardising it because you were not careful with your money.
Always Read the Small Print
You may think it's not worth reading, but the small print is there for a reason, so no matter how long it takes to read, you should always make the time. It is important that you understand what kind of deal you have with a lender, and what your options are if you ever want to get out of the deal. A lot of people enter into getting a mortgage with their eyes closed, they see it just as an alternative to renting, which in one way is true, but it is a big decision you are making, so you should make sure you know what you are doing.It may sound crazy, but there are many people out there that will not know what kind of mortgage they have even once they have it. It is important that you take an interest in your mortgage, or someone may take advantage of your naivety.Remember if something looks too good to be true, that is because it probably is, always make sure that you know how much your mortgage will cost overall, just like buying anything, firms can add on extras without you noticing.
Your mortgage is a legally binding contract between yourself and the lender, and you will be paying it back for a large majority of your life, so it is vital that you know as much as you can about it, don't rush into anything and make sure you understand everything.
You might also like...