Looking in the Newspaper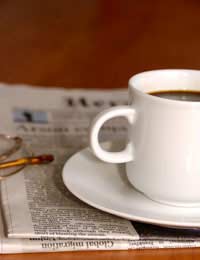 When it comes to getting your first mortgage, your local newspaper can be a great tool in helping you find out not only all about the local area, but also what advice is available. The first place most people start to look for their new home will be their local newspaper, as it will normally show you a wide range of properties and give you an idea of how much you should expect to pay.
It will also have a vast array of advertisements, which will help you find a local mortgage broker, or lender that can give you advice. It is hard to tell from an advertisement what kind of advice they will give you, but it hopefully should tell you what kind of mortgages they offer and whether they charge for advice. They should also display the Financial Service Authority's logo, which will show you that they are regulated to give advice.However, just like with television, advertisements in newspapers are there to attract you and will always display the best rate, which will lure you in but could be misleading. It is best to look for firms that do not seem to offer a service that looks too good to be true, or you may be disappointed when you go and meet them and probably find out that it's just that.Newspapers will not normally offer best buy tables, but there are some magazines that will. While this may be good as background information, unless the statistics are extremely up to date you may find that the deal has already ended.
Local Newspaper Verses National Newspaper
If you are looking for a local mortgage adviser then your best bet will be your local newspaper. If on the other hand you would like to speak to the lender directly then a national newspaper may be better. What you come across in national newspapers will often depend on which publication you buy. Almost every tabloid newspaper will have adverts from firms promising that they can get you a mortgage even if you have bad credit and have been turned down somewhere else. This type of advertisement often promises the world but can rarely deliver, but that's not to say it may not be for you, so you could always give it a go, as you have nothing to loose. Before you dive in headfirst though it is worth noting what kind of telephone number they have. A lot of firms that specialise in mortgages for people with bad credit will have premium telephone numbers, so keep that in mind.
At the risk of stereotyping, if you want to find a national firm that will be able to offer you good advice without the tempting offers, then broadsheet newspapers might have what you are looking for. Don't be put off by looking in the financial sections of a broadsheet newspaper for a mortgage firm, or think that they just offer this service for the more wealthy homebuyers. A firm will be happy of your custom however much you have to spend on a mortgage and will do their best to help you.
Newspapers are a vital starting point when it comes to looking for where you should get your mortgage advice. They will often be up to date, inform you about local firms and give you a better idea of what type of firms there are in your local area. A newspaper may only cost you about £1, but it will be money well spent.
You might also like...