Muslim Mortgage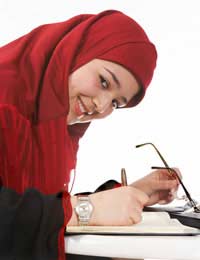 Until a few years ago if you were a Muslim living in Britain it was almost impossible for you to take out a mortgage.This is because Islamic law states that Muslims must not receive or pay interest, which makes it very hard for them to own their own home, unless they have large sums of cash or are very wealthy.
There were deals available on the market, but they were only offered by a handful of lenders, however since then lenders have adapted to the growing Muslim population in the UK. This coupled with some innovative thinking means there are now a number of lenders that offer mortgage for Muslims.There are a number of ways this can be done, lenders have been very clever in thinking of ways in which you can own the property without having to pay what is regarded as interest.
What are your Options?
You have two main options if you are a Muslim and dream of owning your own home.Your first option is a Murabaha mortgage which is the best mortgage if you have already saved up a bit of money and have something to put down as a deposit for the property.The downside to this mortgage is that you will normally be expected to pay around 20% of what the property is valued at.
The most attractive aspect of this type of mortgage is that from day one the property will be registered as yours.The bank will pay for the property, but will then sell it back to you at a higher price, it will then work out what your monthly payments will be based on an estimate of how long it will take you to pay off the debt and how much you bought the house for.Which means you will not be paying what is seen as interest on the property.
A Ljara Mortgage
Your second option, and one that is a lot more popular is what is called the Ljara mortgage.The good news is that for this type of mortgage you do not need to put down a deposit on the property and can even switch onto this mortgage if you already have an existing interest mortgage, which could come in handy if you have only recently become a Muslim.
This type of mortgage differs from the Murabaha mortgage in that the lender is the one who buys and remains the owner of the property, they will then lease it back to the customer over an agreed period.The borrower will make monthly payments to the lender, which will be a mix of rent and contributions towards the price the lender paid for the property.This means that the lender will own the property until the final payment has been made.
Mortgages that follow Islamic law are still fairly new to the mortgage market, so you may have to shop around a bit to find a lender that is willing to offer you one.A lot more banks are starting to catch onto the concept and this type of mortgage is becoming more mainstream.
If you can, it is worth saving up some money first and trying to pay a deposit for the property, this way you will have the security of knowing that the property is on your name, however, whichever route you choose you can still eventually own the property.If you are a Muslim you no longer have to just dream about owning your own home, you can wave goodbye to renting and enjoy being a homeowner without breaking Islamic law.
ABOUT MORTGAGING IS FOR SALE.
This website is for sale [more info].
You might also like...